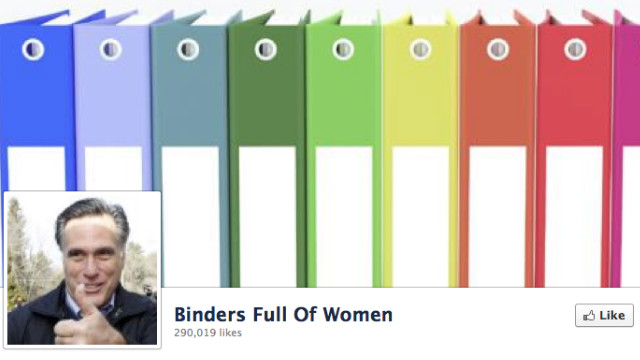 This Facebook page became an overnight sensation with almost 300,000 likes by Wednesday morning.
(CNN) — Mitt Romney showed up Tuesday night talking about "binders full of women" being brought to him when he was governor. Sounds kind of kinky and certainly not something you want to be touting.
The phrase was part of Romney's answer to a question from an audience member at the second presidential debate about how he would "rectify the inequalities in the workplace." Referring to when he took over as Massachusetts governor, he said, "I had the chance to pull together a Cabinet, and all the applicants seemed to be men," he said. "I went to a number of women's groups and said, 'Can you help us find folks?' and they brought us whole binders full of women."
The "binders" moment went viral immediately on Twitter, spawning @RomneysBinders and @womaninabinder Twitter handles. As of Wednesday morning, almost 300,000 people had supported a Facebook page about what a politically dumb statement it was. Romney may soon say it was "inelegant" phrasing or he didn't finish his statement or some other excuse, but the comment shows why voters, especially women, don't trust him and don't believe he has their back.
click here to read more
Also On AM 1310: The Light: