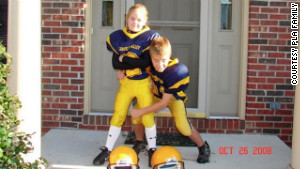 Philadelphia (CNN) — Caroline Pla just won her fight to get back on the field.
Pla has been playing football since kindergarten, and for the past two years, the 11-year-old has been holding her own on the gridiron.
Her playing time with the Catholic Youth Organization ended after last season when the Archdiocese of Philadelphia enforced its "boys only" policy for football, sidelining the All-Star guard and defensive end.
Although a panel selected by the archdiocese issued its decision to uphold the boys-only rule, on Thursday Archbishop Charles Chaput ordered the archdiocese to allow girls to play CYO football, effective in the 2013 season, according to a statement.
'More than able to hold her own,' girl gets boot
"The Archdiocese will allow for co-ed participation in CYO football, effective in the 2013 season," the statement said, adding that the rule was provisional and will be reviewed in future seasons.
WATCH VIDEO BELOW
Also On AM 1310: The Light: